RIP Pele. The king of football has left us but his legacy will never be forgotten. Pelé – The king of football, dies at 82.
"Everything that we are, is thanks to you," his daughter Kely Nascimento wrote in a post on Instagram, under an image of family members holding Pele's hands. "We love you infinitely. Rest in peace."
Pelé was admitted to a hospital in São Paulo in late November for a respiratory infection and for complications related to colon cancer. Last week, the hospital said his health had worsened as his cancer progressed. He died on Thursday from multiple organ failure due to the progression of colon cancer, according to a statement from Albert Einstein Hospital.
For more than 60 years, the name Pelé has been synonymous with soccer. He played in four World Cups and is the only player in history to win three, but his legacy stretched far beyond his trophy haul and remarkable goal-scoring record.
"I was born to play football, just like Beethoven was born to write music and Michelangelo was born to paint," Pelé famously said.
Tributes have been pouring in for the soccer legend. Pelé's first club, Santos FC, responded to the news on Twitter with the words "eternal" shared next to an image of a crown.
Brazilian footballer Neymar said Pelé "changed everything." In a post on Instagram, he wrote: "He turned football into art, into entertainment. He gave a voice to the poor, to black people and especially: He gave visibility to Brazil. Football and Brazil have raised their status thanks to the King!" he added.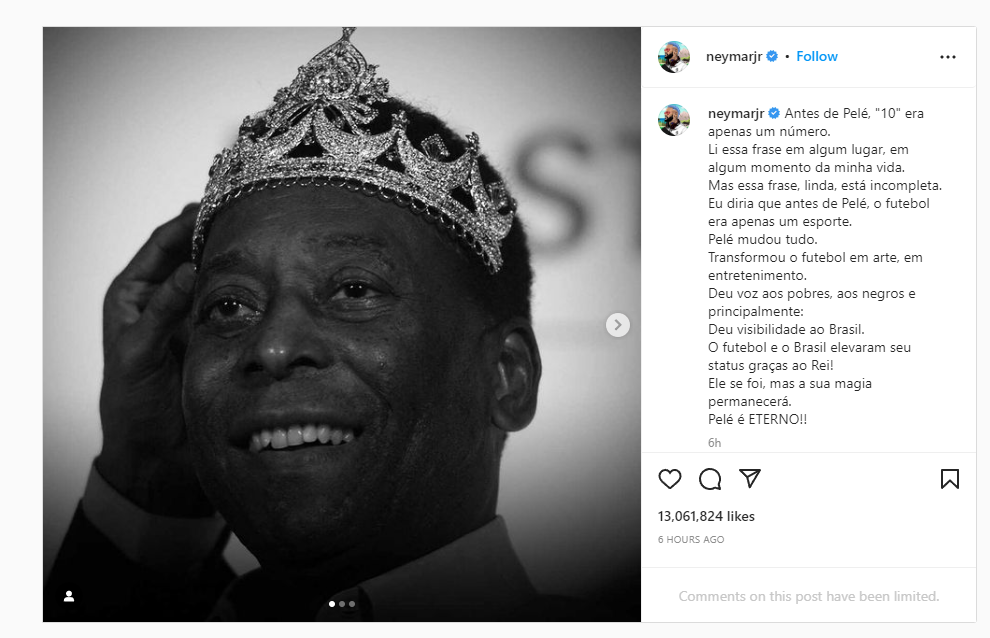 Portuguese star forward Cristiano Ronaldo sent his condolences to Brazil in a post on Instagram, saying "a mere "goodbye" to the eternal King Pelé will never be enough to express the pain that currently engulfs the entire football world."
Kylian Mbappé of Paris Saint-Germain said of Pelé's death: "The king of football has left us but his legacy will never be forgotten."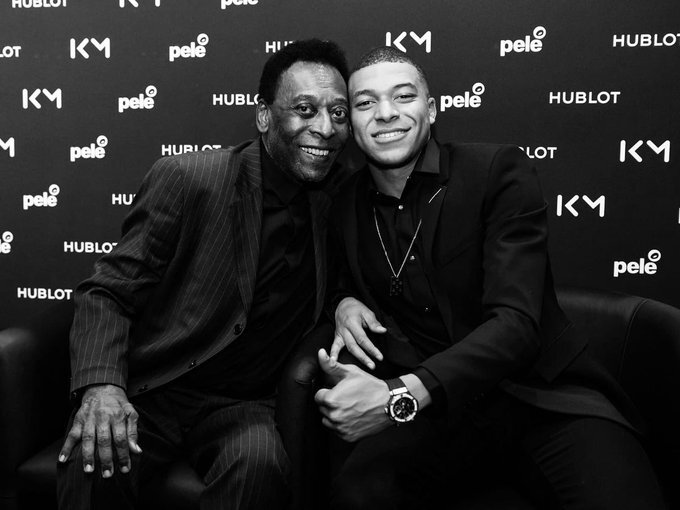 Former English soccer player Geoff Hurst wrote on Twitter of his memories of Pelé, calling the late star "without doubt the best footballer I ever played against (with Bobby Moore being the best footballer I ever played alongside). For me Pele remains the greatest of all time and I was proud to be on the the pitch with him. RIP Pele and thank you."
Brazil's incoming President Luiz Inácio Lula da Silva took to Twitter to pay his respects to Pelé, saying "few Brazilians took the name of our country as far as he did."
"As different from Portuguese as the language was, foreigners from the four corners of the planet soon found a way to pronounce the magic word: 'Pelé,'" Lula added.
A public wake will be held for Pelé on Monday at the Urbano Caldeira stadium, popularly known as Vila Belmiro and home to Santos football club, in Brazil's São Paulo state, according to a Thursday statement from Santos FC.
At dawn Monday, Pele's body will be moved from the Albert Einstein Hospital to the stadium. The soccer legend's coffin will be placed in the center of the pitch.
The wake at Vila Belmiro will continue until Tuesday 10 a.m. local time (8 a.m. ET), after which a funeral procession will carry Pelé's coffin through the streets of the city of Santos, including the street where Pelé's 100-year-old mother, Celeste Arantes, lives.
The cortege will continue to Pelé's final resting place, the Memorial Necrópole Ecumênica cemetery in Santos, where a private funeral, reserved for family members, will be held.
Check out for RIP PELE SHIRT:
More: https://ghosttshirt.com/product-tag/rip-pele/